Carpet cleaning in Walsall: Restoring carpets and rugs to top condition
It's said that the average cost of a carpet is around £28 per square metre. That's quite a price when you consider the lengths needed to cover a large room, an entire house or a large office. It's clear, therefore, that a carpet is an important investment, bringing comfort, charm and character to homes and commercial properties. When the carpet is stained in one or a few areas, there's a real urgency to restore it to its prime condition – and that's where our professional carpet cleaning services in Walsall can help.

Here at ATD Cleaning Services, our friendly team fuses our deep knowledge of professional cleaning with high quality equipment to deliver the best possible results. Our carpet cleaning machines are extremely quick to operate, lifting stains with ease, whilst benefiting from fast drying times – but it's our personal service and meticulous attention to detail that sets us apart from competition.
---

Why choose our professional carpet cleaners?

Removing stains from carpets is at the heart of our carpet cleaning services in Walsall – but that's just the start! Microbiology research states that an average indoor carpet harbours a great deal of bacteria, to the extent that it's "4,000 times dirtier than a toilet seat". Combine this with the fact that carpets can hold approximately four times their weight and you can begin to understand just how important it is to ensure your carpets are cleaned thoroughly with an expert team, top quality cleaning products and powerful machinery. Below are just a few of the many reasons why you should consider choosing ATD Cleaning Services to deep clean your carpets:

• We don't just lift stubborn stains; we remove bacteria and prevent dust, improving the indoor air quality.
• You're guaranteed the most effective steam and hot water extraction cleaning equipment.
• We deliver fast drying times by carefully separating the carpet's fibres using very fine and gentle rakes.
• We utilise innovative cleaning technology called Scotch Guard to enable an unbeatable freshness and cleanliness for years to come.
• We offer the most competitive prices throughout Walsall. For example our hallways and landings carpet cleaning services can be provided from as little as £20.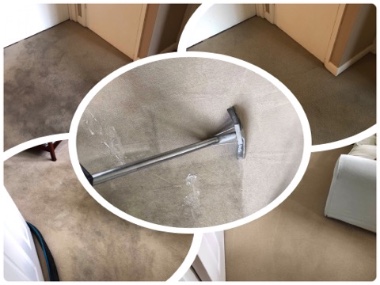 ---

Clean and dry carpets in Walsall: Fast, friendly and tailored services

Wherever you're based in Walsall, whether it is deep in the town centre, Bloxwich, Caldmore, Aldridge, Pool Green, Wednesbury, Short Heath or any other location, we can provide a bespoke carpet cleaning solution that's right for your needs. So if you'd like to combine cleaning services, such as professional upholstery cleaning of your sofas, armchairs, footstools and mattresses, our highly trained team can provide a bespoke package that covers every solution needed to ensure your home is sparkling clean.
We also provide carpet cleaning to a huge range of commercial clients in Walsall and the surrounding areas of the West Midlands. We're proud to be recognised as one of the leading carpet cleaning companies in the area, lifting all traces of dirt and bacteria from tired looking carpets, without using harsh chemicals or detergents.

Our carpet cleaning credentials in Walsall

As a family run business, ATD Cleaning Services was born out of a desire to ensure homeowners, business owners and commercial property managers can rely on 100% safe, non-toxic cleaning processes, delivering a deep cleaning service like no other. Carpet cleaning in Walsall is a growing area of our business and over the years we've developed a fine reputation, offering spot stain treatments and rapid drying.
We know that every property is unique, so whether you only have one small room that requires carpet cleaning, several large rooms or hundreds, we will take the time to run through your requirements in detail, before providing a bespoke quotation on the work to be completed. It's a fact that having your carpet professionally cleaned on a regular basis will extend its life, removing unwanted grime, dirt, harmful bacteria, foul odours, stubborn stains or unwanted marks – and we can rid your carpet of all of these issues.


You're always guaranteed a thorough inspection and survey of the carpet in question before ATD Cleaning Services decides on the right method for you. You can learn more about us, our carpet cleaning services and guide prices by calling us today on 01543 820407 or 07742575515.